Real Estate
Paki Maui Market Update with Heidi Dollinger R(S)
Paki Maui Market Update
By Heidi Dollinger R(S), Sotheby's International Realty
Paki Maui is an oceanfront resort condominium property located at the north end of Kāʻanapali, a proximately five miles north of Lahaina town. It consists of 108 one- and two-bedroom units across three concrete four-story buildings designed in a graceful curving shape, and with a tropical garden and water feature in the center.
Paki Maui has two addresses – 3601 Lower Honoapiʻilani Road for building 1, and 3615 Lower Honoapiʻilani Road, Lahaina, HI for buildings 2 and 3.
Amenities at Paki Maui include elevators, a circular 4-foot deep swimming pool, a jacuzzi spa, gas BBQ grills, a covered picnic area, and onsite storage for owners.  A tranquil oceanfront lawn stretches along the front of the property, lined by lounge chairs for relaxing by the ocean.  This an excellent spot to watch humpback whales from December to March, and turtles all year.  There is direct ocean and beach access and tidepools to explore.  The beach in front changes throughout the seasons with the summer and winter swells.
ARTICLE CONTINUES BELOW AD
Paki Maui is located right next to the beach at Honokōwai Beach Park, and is just down the street to Honoapiʻilani Beach Park, the Kāʻanapali Beach Boardwalk and North Kāʻanapali Beach, which extends all the way to Black Rock, or Puʻu Kekaʻa.
ARTICLE CONTINUES BELOW AD
Guests of Paki Maui enjoy walking across the road to dine at Honokōwai neighborhood restaurants like The Fish Market, Amore Mio, Okazuya Deli, Cruzin Café, and shop at the Farmer's Market and Times Supermarket.
Paki Maui is on Maui County's Minatoya List of properties that allow short-term nightly vacation rentals. The onsite rental management company is operated by Castle Resorts. There are also many independently managed units at Paki Maui.
Paki Maui has photovoltaic solar panels installed on the roof to minimize electric costs to the owners. All the utilities have been included in the monthly HOA fees in the past, though Paki Maui just completed sub-metering for each unit, and going forward, electric will be billed separately by unit.
ARTICLE CONTINUES BELOW AD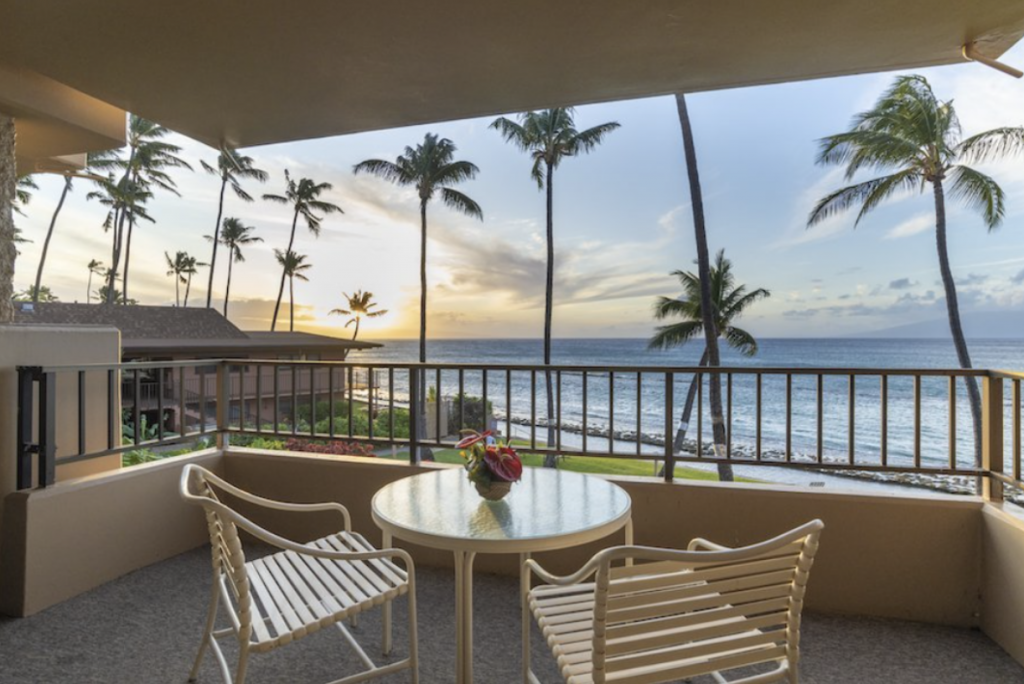 Newly listed (as of Jan. 2019) at $779,000, Paki Maui 206 is one of the premium ocean view locations with two oceanfront lānai, and views from both the living room and master bedroom.  It has been maintained as a second home and enjoyed for many years by the original owner and family, who purchased it in 1976.  The unit has two bedrooms and two baths, with a total of 796 interior square feet and an additional 193 square feet of lānai, for a total of 989 square feet. The Master Bedroom has a walk-in closet. Laundry rooms are maintained by the association, and the laundry is located just down the hall on the same floor. This is a highly desirable southwest facing location with views of the outer islands Molokaʻi and Lānaʻi, and year-round sunset views.
Historical sold prices at Paki Maui in recent years have ranged from the high $200s to $1 million, and vary considerably depending on the unit, view and location.  There are currently (as of Jan. 2019) three active listings at Paki Maui – A garden view unit, Paki Maui 220, offered at $380,000, an ocean view unit, Paki Maui 206, offered at $779,000, and an ocean view unit, Paki Maui 422, offered at $899,000.
The original article was posted by Heidi Dollinger R(S) on Monday, Dec. 3, 2019.