Maui Coronavirus Updates
Hawai'i Coronavirus Total Now 504: 5 New Cases, Maui Total is 86
As of noon on Monday, April 13, 2020, there are 504 cases of COVID-19 identified in Hawaiʻi with 5 new cases. The state Department of Health cautions not to read too much into the low number of cases, as it is likely a reflection of the rate of test reporting over the weekend.
The total includes 2 new cases on Oʻahu, 2 new cases in Maui County, and one new case on Hawaiʻi Island.
There are now 3 pending cases, where the island of residency has not been determined, which is unchanged from yesterday's count.  There were also two cases earlier that were identified as Hawaiʻi residents who were diagnosed outside of Hawaiʻi.
The Hawaiʻi State Department of Health reports that there were 315 individuals released from isolation; and 44 cases that have required hospitalization.
Maui County has 2 new cases for a total of 86 confirmed positive. Of the 86 cases in Maui County, at least 40 have been released from isolation, and 7 have required hospitalization.
ARTICLE CONTINUES BELOW AD
Maui County now has three COVID-19 related deaths. Maui reported its first COVID-19 related death on Monday, April 6, of an adult male over the age of 65 with underlying health conditions and exposure to travelers. The second Maui death was announced on Wednesday, April 8, and was an unattended death. A third death in Maui County reportedly occurred on April 7, but was reported in the state count on Friday, April 10. This third case involved an elderly individual who was in the chronic care unit.
ARTICLE CONTINUES BELOW AD
There is a COVID-19 cluster on Maui at the Maui Memorial Medical Center.  The state adjusted the Maui Hospital cluster count upward on Saturday afternoon to 31 individuals under investigation (at least 27 with a confirmed positive test). By today, the hospital will have notified 194 patients who received care at MMMC by affected healthcare workers.
The Maui positive count includes at least one resident of the rural community of Hāna in East Maui and at least two residents of Molokaʻi.
On Saturday, the State Department of Health announced a ninth COVID-19 related death in Hawaiʻi in a woman on Oʻahu, over 65-years-old with underlying medical conditions.
ARTICLE CONTINUES BELOW AD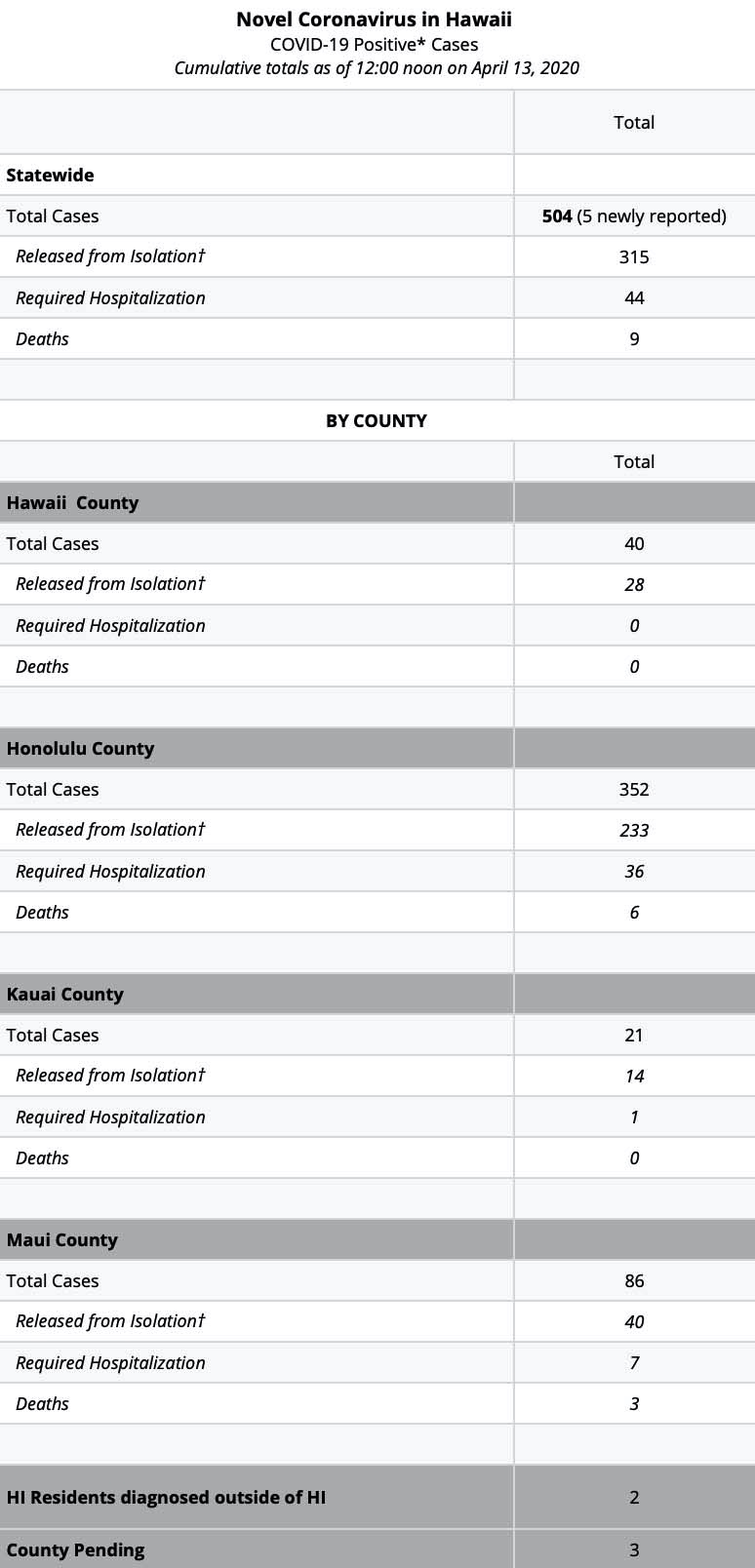 *includes presumptive and confirmed cases, data are preliminary and subject to change; note that CDC provides case counts according to states of residence.
†Isolation should be maintained until at least 3 days (72 hours) after resolution of fever and myalgia without the use of antipyretics OR at least 7 days have passed since symptom onset, whichever is longer.